Your right hand when it´s time to buy or sell your boat
BoatShop.se is a dealer for Galeon Yachts, this is a Polish manufacturer of motoryachts from 30 to 80 foot.
Galeon production facilities is located in Gdynia/Poland, they are the fastest growing boat brand in Europe right now!
This is much thank´s to the innovative design, layout, and high quality versus pricing, and off course their world known "Balconies" or "Beach-mode" that is available on several models in the range.
BoatShop.se is also the general importer for Regal motorboats in Sweden, this is one of the biggest and most respected shipyards in America, they are famous for their quality and patented air lubricated hulls, FasTrac.
Regal manufactures motorboats from 19foot up to 42foot, with both sterndrives and outboard engines.

When you appreciate design and innovation 
BROKERAGE
When you want to sell or buy your boat in confidence

Pursuing The Ultimate Boating Experience
BoatShop.se also offers Brokerage of motorboats in all sizes.
The benefit of using BoatShop as your right hand in buying or selling your boat, is that we will take care of the complete sale/purchase process for you.
It maybe that you already have found the boat of your dreams abroad, and need help to close the deal, make a survey, book a transport and finance the boat?
- No problem, we will help you to make a secure and easy deal!
Or maybe you know what you want, but have not found a boat that fit your demands in the Scandinavian market?
Then we will help you!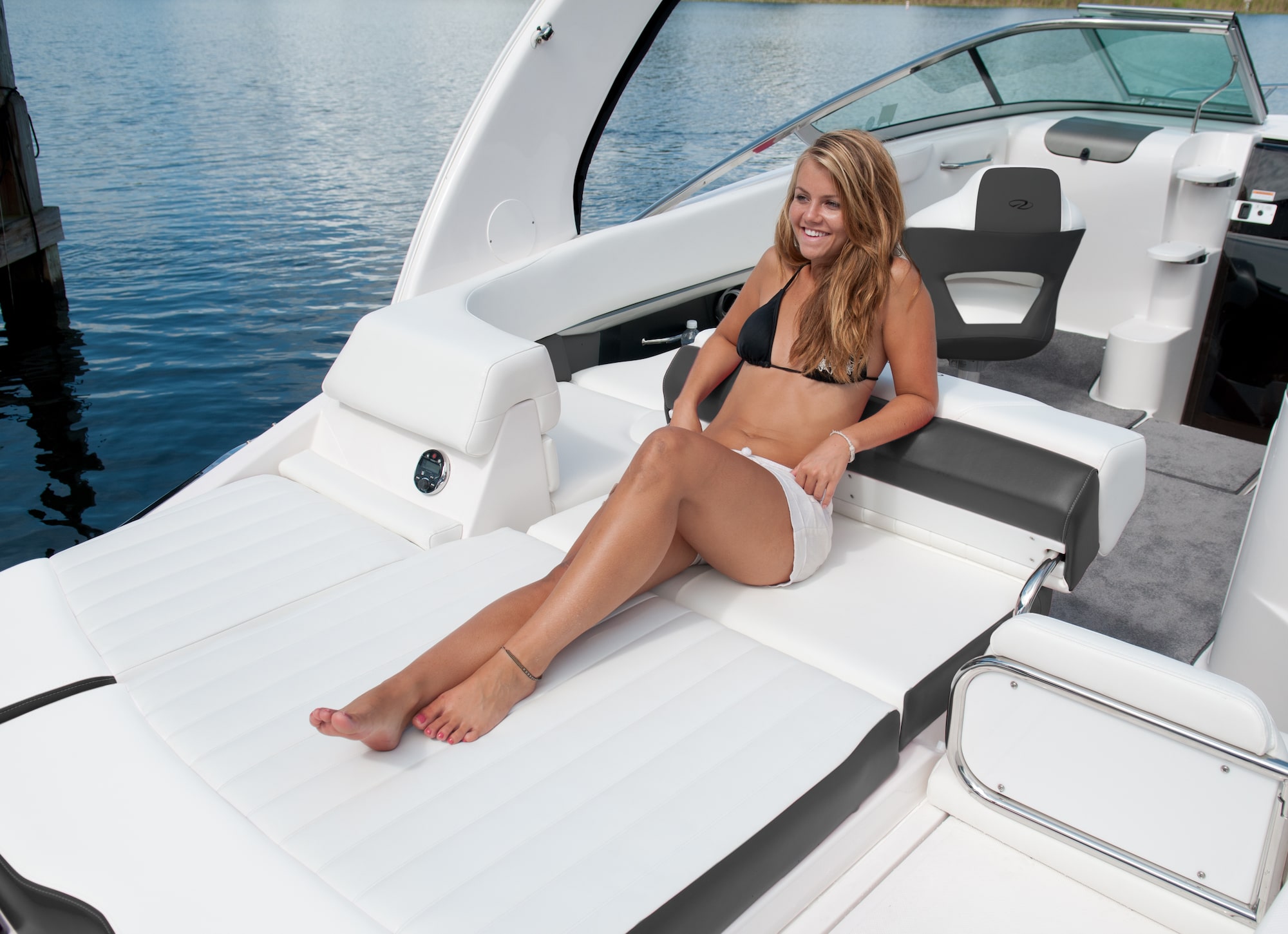 Fairline Phantom 40 2006
Här kommer en båt där bilderna verkligen talar för sig själva!
En super fin och pedantskött Fairline Phantom 40 från 2006!
Pris: 2.275.000 kr (EUR 219.000)
Specifikation
Volvo Penta TAMD75 EDC motorer, 430hp stycket
750 gångtimmar
Längd: 12,10m
Bredd: 3,95m
Hamn: Liguria, Italien
Hytter: 2
Toaletter: 2
Utrustning:
Yachtcontroller
Raymarine plotter i cockpit och på fly
Autopilot
Ankarspel
Bog propeller
Tridata instrument
Elverk
Aircondition värme/kyla
Nya mattor inne i båten
Nya dynor ute
Varmvattenberedare
Landström med batteriladdare
Hydraulisk landgång med teak
Teak i akter och på badbrygga
Kapell över soldyna på fördäck
Kapell + bimini över flybridge
Kylskåp på flybridge och i cockpit
För mer info kontakta oss på BoatShop, vi fixar transport hela vägen hem till er hemma hamn.
Riviera Mariner M430
Detta är en väldigt speciell båt som kombinerar en offshore båts prestanda och sjöegenskaper med alla bekvämligheter du kan tänkas vilja ha för en båtsemester till havs!
Dubbla D6-370 från 2008 på 290h samt helt nya DPH drev och sköldar!
Youtube film på båten: https://youtu.be/RNRHTiuFvT4
Pris: 1.550.000 kr
Specifikation
Wellcraft Excalibur 470
Riviera Mariner M430
Båten är byggd av det Australiensiska varvet Riviera. Den såldes under namnet Mariner M430 i Australien och Europa, men Wellcraft köpte rättigheterna för att sälja den i staterna, så i USA går den under namnet Wellcraft Excalibur 470.
Men båten är 14,80m lång (48,5 fot) och 3,78m bred. Detta gör att sjöegenskaperna är helt otroliga.
Vikt ca 10t, Bränsle 1.100L, Färskvatten 350L, Septi 150L (Däckstömning eller pumptömning).
Marsch fart 28-30 knop, topp 35-40 (har inte testat).
Förbrukning, ca 3,4L/nm vid 28-30knop och ca 3L/nm vid 25 knop
Årsmodell 2004
Motorer:
2008 byttes original Volvo Penta KAD300 motorerna ut, mot 2st Volvo Penta D6-370hk.
Motorerna har i skrivande stund gått ca 290h och är helt genomgångna inför säsongen med alla filter, oljor, remmar, löphjul, anoder osv. (kvitto finns).
Drev:
Vintern 2019 byttes båda dreven och sköldarna ut mot fabriksnya DPH drev, alla slangar, hydraulstyrning, powertrimkolvar och vajrar byttes också ut till fabriksnya grejer (kvitto finns). Dreven har gått ca 900nm denna säsongen sedan nya.
Det är nästan lättare att lista det som inte är nytt på båten!
Här är en del av de saker som är nytt inför säsongen 2020:
Kapell
Dynor ute i båten
Fusion stereo anläggning med 8 högtalare 1 sub + huvudenhet (appstyrd)
Luftvärmare 5,5Kwh med utblås i alla utrymmen
Raymarin navigation med ekolod, radar, autopilot
Mattor ute i sittbrunn
Alla batterier
Batteriladdare med 3 banker (Mastervolt)
Landströmskablar och landströmsuttag (Mastervolt)
Ismaskin i sittbrunn
Lanternor
Tuta
VHF antenn
TV antenn
Strålkastare på fördäck
20kg bruce ankare fram med ankarspel
20kg bruce ankare med ankarband och 4m kätting bak
Annan utrustning:
Elverk Onan 7Kw tystgående
Varmvattenberedare 60L
Kyl ute i sittbrunn
Stor kyl/frys nere
Dusch på badbryggan
Vakuum toa
Med mera med mera…
Båten är rekondad och lackförseglad inför säsongen, den är även bottenmålad med fartygsfärg.
Skrovet är folierat svart (mörkblått original)
Stor solbädd på fördäck
Detta är en båt som är helt genomgången och känns som ny!
ALLT är iordning och det är bara att vrida på nycklarna och åka!
Vi erbjuder förmånlig finansiering med 20% kontantinsats.
Astondoa 43 Fly 2005
This is a really clean and good looking Astondoa 43 Fly with Volvo Penta engines in good condition!
Price: €139.000:- VAT paid (SEK 1.440.000:- inkl moms)
Specifikation
En riktigt trevlig modell från Astondoa med tidlös clean design, som även har rätt motorer!
Location: Alicante, Spain
Dimensions
LOA: 13.20 m
Beam: 4.20 m
Engines
Total Power: 860 HP
Engines: 2
Engine Brand: Volvo Penta
Engine Model: TAMD74L
Engine Hours: 900
Engine Power: 430 HP
Tanks
Fresh Water Tanks: 1 Aluminium (500 Litres)
Fuel Tanks: 2 Aluminium (600 Litres)
Accommodation
Number of single berths: 1
Number of double berths: 1
Number of cabins: 2
Number of heads: 2
Electronics
Depthsounder
Log-speedometer
Repeater(s)
Navigation center
Plotter
Autopilot
Compass
GPS
VHF
Radar
TV set
Radio
CD player
Cockpit speakers
Inside Equipment
Bow thruster
Electric bilge pump
Manual bilge pump
Battery charger
Air conditioning
Heating
Hot water
Microwave oven
Electric head
Refrigerator
Deep freezer
Electrical Equipment
Shore power inlet
Generator
Electrical Circuit: 12V
Outside Equipment/Extras
Teak cockpit
Hydraulic gangway
Cockpit cushions
Cockpit table
Swimming ladder
Cockpit shower
Electric windlass
Covers
Bimini Top
Camping Cover
Vi hjälper er med hela affären från början till slut, kontakta oss för mer info.
Address
Boatshop i Blekinge AB
Humlaviksvägen 16, 372 97 Ronneby